Lama Gangchen Tulka Rinpoche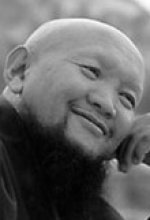 Lama Gangchen Rimpoche was born 1941 in Tibet. He studied buddhist philosophy, dialectics and tibetan medicine at the Universities of the Monastery in Tashilumpo, Westtibet, and in Sera near Lhasa. Rimpoche was tutored a.o. by Ling Rimpoche and Trijang Rimpoche, tutors to the Dalai Lama, as well as by the Dalai Lama himself.
With the occupation of Tibet he left his home country for India. After further studies at various Indian Universities and his many years of working as healer and general practitioner he could be convinced by friends 12 years ago to become a teacher in the West. Here T.Y.S. Lama Gangchen devotes his life to the healing of the ecosystem of our planet and the healing within each individual being.
The "Lama Gangchen World Peace Foundation", founded in 1992, is an active part of the U.N.O. The Foundation has suggested a permanent spiritual forum of all religious traditions with the aim of an institutionalisation of all world religions in the United Nations.